Increased Employee Bonding in Lockdown Skyrockets Productivity
Working from home has has raised some real-world complications with distributed work. That is, feeling that our work is 'invisible', having less access to our colleagues and managers, and limited collaboration opportunities to name just a few. The common thread that runs through many of these challenges is also the most obvious, and that is being physically isolated from our co-workers.
Losing the office environment has meant losing those built-in opportunities to form social bonds and build trust with colleagues. That can lead to disengagement, which in turn, can lead to poor performance on the job. This is where virtual team building activities are critically important to the success of business. In fact, the personal bonds formed between team members actually gives your company a competitive edge.

HOW?
It's all about engagement. There's a pretty clear link between the personal bonds between your team members and their engagement level. A recent Gallup study* found that close work friendships boost employee satisfaction by 50%. While people with a self-described best friend at work are seven times more likely to be fully engaged at work.
Don't believe us? This sheds a little more reason. Another Gallup study** reported that engaged companies consistently outperform the competition in profits, productivity, and turnover. Pretty important stuff, right? So, it stands to reason, the closer you are to your co-workers, the happier you'll be at work. That, and the more productive you will be.
LIKE EXERCISE FOR THE BODY, 30 MINUTES OF CARE CAN GO A LONG WAY TO BUILDING A STRONG AND HEALTHY REMOTE TEAM
Here's the best part – virtual team building events don't have to be eye rolling boring! We've broken them down into categories to help you decide which ideas might work best for your teams.
To Book Your Virtual Team Building Workshop
Fun Virtual Team Building Activities
Every team is different, so choose what type of Virtual Team Building Activity works for your team based on the below three categories.
1. Real Time v Anytime
Do you need to do the activity simultaneously, or can each person participate at whatever time is right for them?
2. Practical v Just for Fun
Is the activity intentionally unproductive (which is occasionally a good idea to focus on team bonding or "fun factor")? Or does the activity need to serve a dual purpose of building social connections, as well as improving workflow and productivity?
3. One Hit Wonder v Regular Rhythm
Is the activity a daily or weekly occurrence? Or is it an exercise you would only run once (and perhaps again when a new a member joins)?
To Book Your Virtual Team Building Workshop
8 Fun Virtual Team Building Activities.
1. CLASSIC ICE BREAKERS (a classic that is not to be downplayed)
Type: Real Time, Just for Fun, Regular Rhythm
Time: 5 Minutes
Equipment: Virtual Meeting App of Choice
Before you roll your eyes and go "Blah, blah, like I hadn't already thought of that!" … understand that some of our distributed teams (ours included) do an icebreaker at the start of our team meetings every week. Even though we've been working together for a couple of years and feel pretty connected already, there are always more Aha! moments to learn about each other.
The below are some of our recent favourite ice breaker topics, both for their simplicity and what they reveal!
What was the last song you sang out loud?
What is your middle name?
Put these morning routine items in order: breakfast, coffee/tea, open up your laptop.
What was something that always frightened you as a child?
Tell us one thing about yourself we did not know.
2. VIRTUAL TEAM BINGO
Type: Real Time, Just for Fun, Regular Rhythm
Time: Unlimited 
Equipment: Virtual Meeting App of Choice, Virtual Team Bingo Template Filled Out or Virtual Team Bingo Template Blank
Online Team Building Bingo is a fun and easy game you can play with remote employees. The game is quick to setup, great for virtual team engagement, a little nostalgic, and a familiar format.
Here is a free game board you can use: click here to download your Virtual Team Bingo Template that you can fill in with your own clues, or click here or on the image below for one already made up and ready to go.
And here are the rules for Virtual Team Building Bingo:
Distribute the Online Team Building Bingo board to your remote employees.
Decide on a timeline, which could range from a single virtual meeting through to a month or longer.
A player gets a point when they learn information from a co-worker that applies to the Bingo board.
Have players track performance, marking an "x" or similar for each box they complete.
The centre square is a free point for all players.
Award prizes for the first player to complete challenges like an entire row or an entire board.
Even a $5 gift card ups the stakes from bragging rights.
Provide enough time to play. For example, you may want the game to span an entire week so your people have more opportunities to connect.
3. TINY CAMPFIRE
Type: Real Time, Fun but Practical, One Hit Wonder
Time: Provisions Prep, plus 60 Minutes as a Team
Equipment: Virtual Meeting App of Choice + Below Provisions
Tiny campfire is one of the world's most popular virtual team building events. Hold tiny campfires as a way to engage remote teams in a semi-virtual experience that includes marshmallows and an actual small campfire.
Send your team or get them to rummage together from home or next time they duck to the shops: packet of tiny marshmallows, chocolate, tiny tongs or toothpick, candle, and lighter. Put them together and you have an indulgence unlike any other, outdoors or in. Then take turns around the "campfire" to fire off some quirky questions of one another?
Which living person do you admire most?
What is your dream job?
If you could swap jobs with anyone for a day, who would it be?
What would you do with fifteen minutes of fame?
What one thing do you own that you wish you didn't?
This online team bonding game combined with a virtual campfire experience will bring a smile to your team's face, as they make shared memories of a bonding session in the comfort of their own home.
4. GEOMETRANARY
Type: Real Time, Fun but Practical, Anytime
Time: As Required
Equipment: Virtual Meeting App of Choice, Paper, Pencils/Pens
Geometranary is a great digital game for virtual teams. Here you nominate one person to be the spokesperson, and the remainder of the team are the artists. The speaker should use a random image generator you can find on the internet to source a fitting image. Or pre-supplied images uploaded prior to the virtual meeting works just as well. The speaker's purpose is to explain in steps the image to the artists in such a way they can draw it successfully.
But there is a rule, only one rule, but they must stick to it. The speaker is only allowed to use geometric shapes to describe the image for the artists to draw. By restricting instructions to geometric positions and shapes, the speaker needs to execute remarkably precise communication. And in turn – the artists need to listen and interpret. This game is a significant online effective communication exercise and is also really fun.
To Book Your Virtual Team Building Workshop
5. VIRTUAL LUNCH DATE
Type: Real Time, Just for Fun, Regular Rhythm
Time: 30 Minutes
Equipment: Virtual Meeting App of Choice
Once a month, links up virtually over lunchtime. Team members can even expense up to $25 so they can order delivery, or cook up a little something special at home, or perhaps one day, join from your favourite café (if these restrictions ever ease up).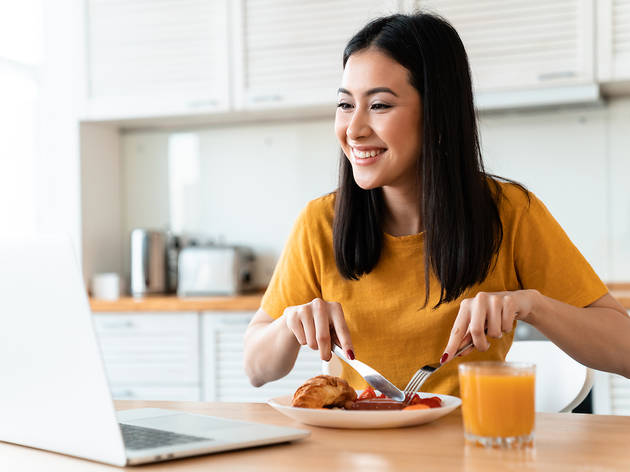 Do you only have 10-20 minutes to spare? Not a worry. Virtual coffee chats and virtual happy hours are fun variations on this activity.
6. MESSY DESK OFF
Type: Anytime, Just for Fun, Regular Rhythm
Time: 5 Minutes
Equipment: Group Chat App of Choice
When you work in an office, you feel compelled to keep your desk at least minimally clean. That is, no used tissues, three-day old bowls and plates, or constellations of coffee rings. But when you work from home, there's no such social contract to uphold.
So, pick a day mid-week, each week, for your team to out themselves with an uploaded image, sharing the unkept state of each remote workstation. The LOLs and ROTFL will be flying!
It's also a chance for your unnaturally tidy teammates to do some humble bragging about their catalogue-worthy office space.
7. EXPAND MINDS WITH LEARNING CIRCLES
Type: Real Time, Fun but Practical, Regular Rhythm
Time: 30-60 Minutes
Equipment: Virtual Meeting App of Choice and Study Materials as Needed
It's easy to get so caught up executing your work that you forget to expand your horizons. Even more so when working from home with no office banter happening around you. Plus, remote work can be isolating if you don't make a point to connect with your teammates on a personal level.
Our Learning Circle play can address both issues. Choose a topic related to your work that you want to learn more about. That is anything from Objection Handling Techniques to Leadership Styles to Understanding Human Behaviour. And then find colleagues who share that interest.
Each month, gather virtually to discuss a related book or article. Additionally, you could have someone in the group give a short presentation on the chosen learning topic. The best part about Learning Circles is that you can extend them beyond your immediate team and connect with people across the entire organisation.
8. UNCOVER YOUR SUPERPOWERS
Type: Real Time, Fun but Practical, One Hit Wonder
Time: 10 Minutes Individual Prep, 60 Minutes as a Team
Equipment: Virtual Meeting App of Choice
If you are thinking 'water cooler moments' to unlock creativity, you're on the wrong track.
However, if you are ready to go beyond surface-level connections with your team, this is the activity for you. Each person prepares for the session by taking an online strength and behaviour finder assessment such as DISC.
During the virtual group session everyone then takes turns sharing their results. It can be mixed up as well. One client of ours had each employee share their top three strengths, one lowest ranked strength, and one thing to surprise the team about yourself. Then we'd discuss as a group how that person's top strengths contribute to the team already, and how we could make even better use of them.
This is a personal activity. Some may feel a bit vulnerable or exposed, so it works best if there's already a sense of psychological safety amongst teammates. But because you're discussing each other's strengths, the conversation tends to be very positive and affirming. Chances are, everyone will walk away with a deeper sense of belonging and an understanding of the unique value they bring to the team.
To Book Your Virtual Team Building Workshop
Build a Positive Culture in your business. Call 1300 833 574 or email info@healthybusinessbuilder.com.au to get your team booked in to their Positive Communication Workshop, either onsite or virtually.
*gallup.com/workplace
**gallup.com/workplace/229424/employee-engagement.aspx