Savvy negotiators have learned how to read body language and to use the resulting insights to their advantage (we know because we train them how to do it). But many negotiators out there still miss valuable opportunities to read their counterparts' nonverbal messages. This is simply because they don't pay attention! Basically, they get so wrapped up in what is being said they neglect to look for these vital cues.
To get you started in understanding the importance of reading behaviour, consider the following revelations based on the best body language techniques used by winners. Next time you engage with a customer or client, consider these "tells".
Has Your Body Language in a Negotiation Affected Your Outcomes?
Get your Team Trained in the Silent Art of Reading Body Language Workshop
PAY ATTENTION TO WHAT IS NOT BEING SAID
In any negotiation, engagement, disengagement, and stress are the most important signals to monitor in the other person's body language.
1. Engagement behaviours indicate interest, receptivity, or agreement:
Eye Contact
Head Nods
Smiles
Forward Leans
2. Disengagement behaviours signal that a person is bored, angry, or defensive:
Looking Away
Leaning Back
Arrowed Eyes
Frowns
3. Stress signals often accompany bluffing or discomfort with how the negotiation is proceeding:
Higher Vocal Tone
Face-touching
Tightly Crossed Ankles
Has Your Body Language in a Negotiation Affected Your Outcomes?
Get your Team Trained in the Silent Art of Reading Body Language Workshop
NOW PUT IT ALL TOGETHER
Nonverbal cues occur in what is called "gesture clusters". That is a group of movements, postures and actions that reinforce a common point. Trying to decipher body language from a single gesture is like trying to find narrative meaning in a single word. However, when words appear in sentences or gestures in clusters, their meaning becomes clearer. For example, a person's fidgeting may not mean much by itself. But, if that person is also avoiding eye contact, wringing his hands, and pointing his feet toward the door, you can bet he's distressed and wants to leave.
A good rule is to look for three body language signals that reinforce the same nonverbal message.
 Here is an amazing true story of the success achieved from possessing skills to read simple body language. Have a quick read of the following story and guaranteed you will believe in the power of body language. As well as how acquiring body language reading techniques can win you a deal, in fact win you a grand slam tennis tournament, every time.
SOMETIMES A WIN COMES DOWN TO THE SMALLEST DETAIL
Andre Agassi had the better of Boris Becker, all because of a "tell" the German had, and he wasn't aware of it until after he'd retired.
For three years, Andre Agassi agonised over what he needed to do to his game, what approach needed changing up in his quest to beat Boris Becker.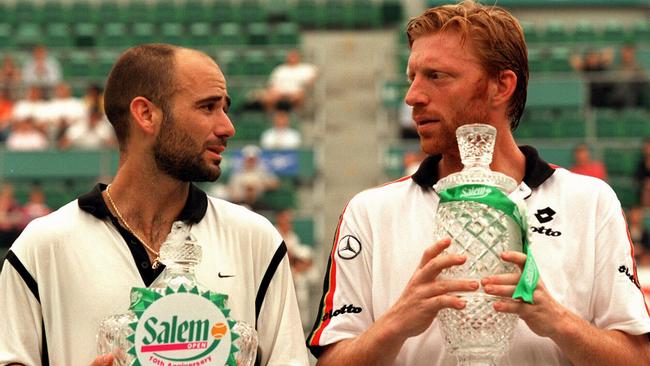 Between 1988 and 1989, the pair met on three occasions, the German claiming a hat-trick of wins. While not the longest stint for any player to have gone without beating their biggest rival, competition between the pair continued to grow, the spotlight on the pair intensified and so too did Agassi's obsession with breaking the hoodoo.
And then a breakthrough.
On the hard courts of Indian Wells in 1990, Agassi put a new theory to the test. A small, but ever so important observation he had made after endless hours of watching replays of Becker in action.
He watched for the German's tongue.
That's right, his tongue.
Has Your Body Language in a Negotiation Affected Your Outcomes?
Get your Team Trained in the Silent Art of Reading Body Language Workshop
"Becker beat me the first three times we played because he had a serve the type of which the game had never seen before" Agassi explains.
THE DISCOVERY
"I watched tape after tape of him and stood on the other side of that net three different times, and I started to realise he had this weird thing with his tongue"
"I'm not joking."
Agassi explained that just before Becker tossed the ball on his serve, he would stick his tongue out.
But wait, it gets more telling.
Agassi worked out, if Becker's tongue went to the left of his mouth he was serving wide towards the tramlines, if it remained in the middle the ball was staying central!
Agassi's fortunes against Becker improved markedly after he worked out his 'tell'.
The discovery transformed Agassi's record against Becker. In the 11 meetings which followed, the German managed just one victory (Wimbledon semi-final 1995) before ending his career in 1999 with a 4-10 record against the American.
DISCRETION
During that time, Agassi says the biggest problem was discretion. He had to allow Becker to win certain points with his thunderous serve in a bid to ensure "his tongue still poked out".
"The hardest part wasn't returning his serve," Agassi said. "The hardest part was not letting him know that I knew this. So I had to resist the temptation of reading his serve for the majority of the match and choose the moment when I was going to use that information.
Has Your Body Language in a Negotiation Affected Your Outcomes?
Get your Team Trained in the Silent Art of Reading Body Language Workshop
"I didn't have a problem breaking his serve, I had a problem hiding the fact I could break it at will, I just didn't want him keeping that tongue in his mouth."
THE REVELATION
Becker retired seven years before Agassi, and it was only once the German was firmly out of the game that the secret was revealed.
"I told Boris after he retired. I told him at Oktoberfest, we had a pint and I couldn't help but say "do you know you used to do this'
"He fell off the chair"
"He said 'I used to go home and tell my wife – it's like he reads my mind'. Little did I know you were just reading my tongue'."
It may sound like an impossible task to study the behaviour of your counterpart. Especially, while conducting a serious conversation at the same time. But remember you have been reading body language all your life. All that is different now is that you are taking this innate but unconscious skill into a level of awareness. And by doing so, you are gaining insight into what the other person is really thinking – and going to do!
Get your Team on the Silent Art of Reading Body Language Workshop, call the HBB Group 1300 833 574 or email  info@healthybusinessbuilder.com.au to discuss the tailored option that is best for your business.