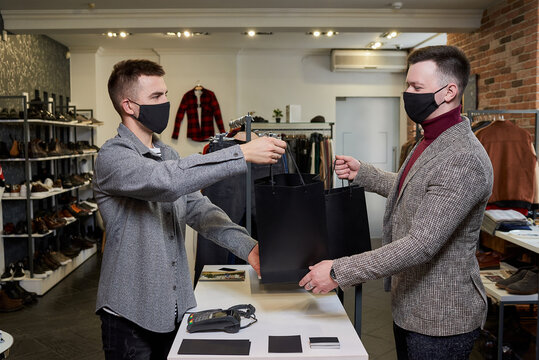 Customer Service at the best of times is demanding. Add to that the tediousness of wearing a mask, and hectic just stepped up to an entire new level. Moreover, when it comes to Customer Service and talking through a mask, direct eye contact as well as listening to your customer is even more vital if your mouth is hidden.
Customer Service and mandatory mask wearing plus the added caution of social distancing are what has changed as a result of COVID-19. But do you know what remains the same? Genuine Connections. Genuine Connections are still required to create sales and to capture market share from your competition.
So, now the question is: How do you connect with a customer from behind a mask?
To Book Your HBB | Service with a Covered Smile Workshop
TIPS FOR SELLING BEHIND A MASK
Here are 9 tips we have taken from our HBB | Service with a Covered Smile Workshop to help you better engage with customers while wearing a mask. Whether an employee is selling from 1.5 metres away, ringing sales, selling loyalty programs, or stocking shelves, talking in a mask and connecting with customers can be very hard.
1. THE GREETING
The most basic element of face-to-face customer service is a clear welcome.
In our HBB | Service with a Covered Smile Workshop we emphasise the importance of a smile, followed by the verbal greeting. Now, the verbal greeting is crucial. Some organisations give staff a script to follow ("Welcome to Gracie-Lou's Can I Help You with Anything?").
One of the Customer Service Workshop Exercises we run is, we teach each person how to create their own appropriate bespoke greeting. Those greetings then feel more authentic to both the worker and the customer.
2. THE SMILE
With masks in place, a quick show of teeth will not be seen. Even without masks, that sort of obligatory smile does not really convey the welcome we want to offer.
Practice smiling with your eyes! That way, customers will see that you genuinely are happy to see them.
3. TONE OF VOICE
We train Customer Service telephone operators to smile when on the phone with customers because that smile carries over into their tone of voice. The same applies when talking through a mask.
Smiling helps the mood on both sides of the encounter. Life is pretty stressful for many people right now. If we can add a simple ray of sunshine to our own and others' lives, isn't that also helping service your customer?
To Book Your HBB | Service with a Covered Smile Workshop
4. POSITIVE ATTITUDE WHEN ENFORCING MASK WEARING
This is one of our most asked about topics. How do we stay positive when a customer refuses to put on a mask? When you are given the responsibility of making sure customers are donning a mask, your customer service approach changes. Your smile, tone, and attitude need to be upbeat yet firm, to make sure the interaction is a positive one. Usually, a positive attitude is contagious.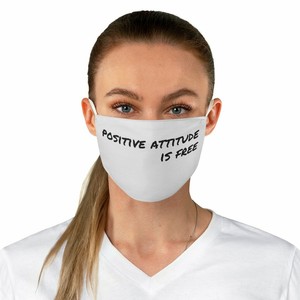 In our HBB | Service with a Covered Smile Workshop we encourage the HBB Guided Approach. For example, your smiling greeter says "Hello! Welcome to Flint and Steele! We are so glad you are here! Let Lewis at the front counter know if we can help with anything. Do you have your mask with you? No? Here, you can have this one."
By applying the HBB Guided Approach you are less likely to get pushback. Consider the alternative, if you applied a negative tone and wording, "You can't come in if you don't have a mask." How does that make you feel as a customer? The HBB Guided Approach is a lot less confrontational, particularly if you can offer a disposable mask from the onset.
5. MAKE EYE CONTACT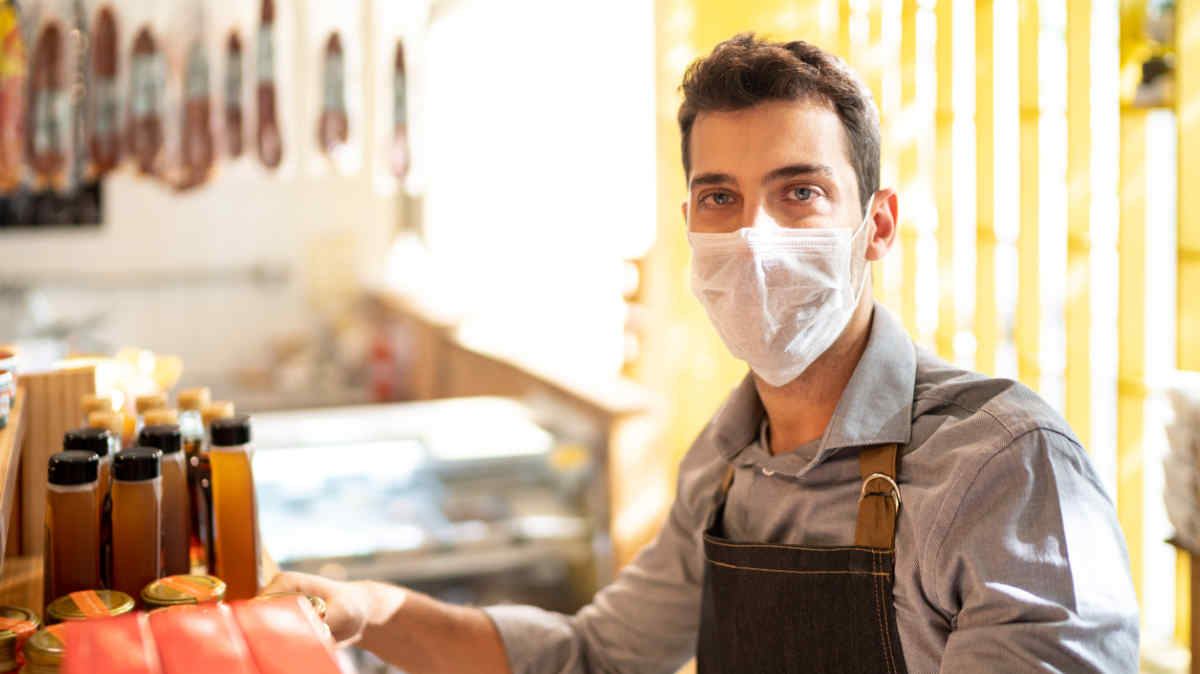 The Mask Does Not Cover your Eyes! The eyes, the eyes. As the old adage goes, our eyes are the windows to our soul. So, work on your eye contact!
Those smiling eyes need to meet the eyes of your customer. Eye contact shows that you are listening. It shows you may actually care. Eye contact conveys respect, further reinforcing the atmosphere of welcome.
6. SPEAK CLEARLY AND PROJECT A BIT MORE
Be aware of whether you are being heard and understood when wearing a mask. Lip motion is one of the many cues that everyone, even those with perfect hearing, use to decode speech. So, it is harder to "hear" when we can't see each other's mouths.
To help the auditory part of that communication, articulate your words more carefully and speak up a bit, particularly if you are a low-talker. Additionally, be careful how you raise your voice. Some of us tend to sound impatient or angry when we simply intend to speak more loudly.
7. BE PATIENT
A cornerstone of all customer service is patience and empathy. These foundations are even more crucial yet harder to accomplish during stressful and uncertain times. With limited facial cues, your tone of voice and body language needs to convey that patience.
Remember how you feel when you are a customer and put yourself in their shoes. Being in an empathetic mindset can be seen in your body language! Just as an invisible smile shows up in your voice. But, make sure your "patient voice" comes across as empathetic and not patronising or exasperated. In the HBB | Service with a Covered Smile Workshop we can delve into roll-playing these situations as a great way to practice and get feedback on your employees' tone and body language styles.
8. POSTURE
Enforcing 1.5 metres distance or a placing a piece of plexiglass between customers and employees changes the messaging our bodies give one another.
It is important to consciously keep a relaxed but upright posture. Additionally, use your open body position to convey the message that your customers are important to you.
To Book Your HBB | Service with a Covered Smile Workshop
9. DEALING WITH DIFFICULT PEOPLE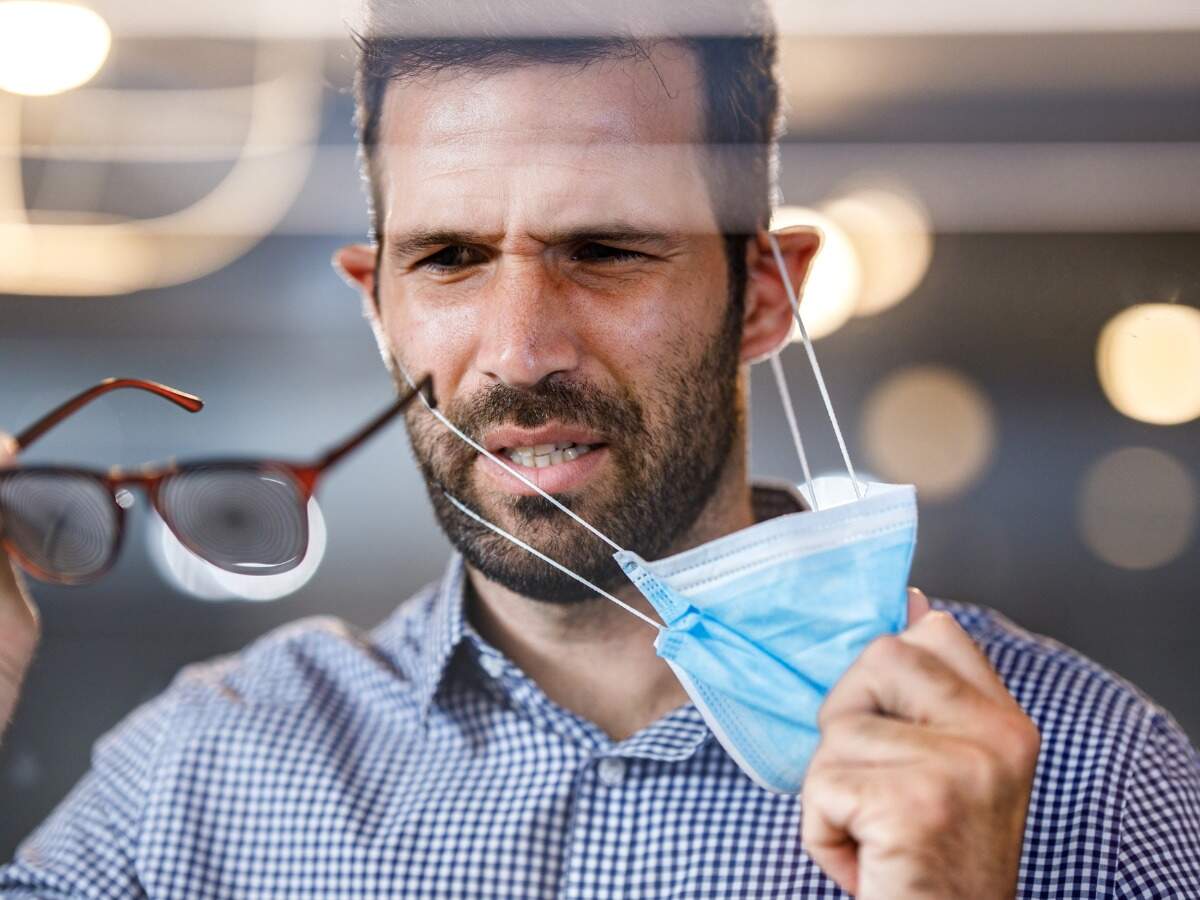 Clear guidelines and Conflict Handling Training are important for employees who encounter customers who do not respond to COVID guidelines. If we are following the suggested tips above, listening carefully and responding with empathy and respect, most situations won't escalate. However, front line workers should be able to refer people to a manager when an interaction gets sticky. That manager should have training and protocols in place in how to handle difficult customers.
The foundations of Customer Service have not changed. Employees still have to be well-informed in their product or service and focus on the customer as the most important person in the room. However, communication when wearing masks, keeping distant, and living with the stress of an ongoing pandemic are all particularly challenging.
We can overcome those challenges with education, awareness and care. To help your employees help your customers, put them on a Virtual 90 Minute HBB | Service with a Covered Smile + Effective Communication in a Mask Workshop. The results are instant, and the learnings are lifelong. Call the 1300 833 574 or email info@healthybusinessbuilder.com.au to discuss the tailored option that is best for your business.