Are you looking for ways to revamp your next conference or event? Seemingly, conference management is complex, with many intricacies to consider. But if you have engaging activities planned, it will be one less aspect to worry about, and a major one at that.
There are some interesting ways to encourage and facilitate dynamic as well as educational content to make your event a memorable one. Additionally, these do not necessarily involve state-of-the-art technologies. But more importantly, by being engaging you ensure the learning will stick – an investment that keeps on giving!
Besides getting your money's worth, by adding a level of entertainment and education to your conferences, you are embedding the learning. That way participants retain the information AND will be keen to apply it in their day-to-day activities. Consequently, this ensures they don't return to their old habits.
You can do training and have fun – we call it Edutainment!
Here are a few of our favourite Conference Activities we run in our workshops. We have outlined how we do each dynamic activity – plus, the benefits to your team's learning. All of these activities can be customised to your team's challenges, or company philosophy. Ultimately – they are both knowledge rich and activity high. And are always laughter inducing!
To get your Team Together on an Activity High Company Conference
1) "I FEEL…" ONE-WORD
At the start of a company conference have everyone write down their current mood in one word. Additionally, to add depth to the activity you can have conference attendees explain their one-word mood descriptor. Alternatively, you can just go with the flow and enjoy how cryptic (and hilarious) some of the answers can be. I feel penguin.
AIM: To break the tension in the room, a quirky ice breaker.
2) HUMAN SPECTROGRAM
Despite the fancy name, this fun task essentially involves voting with your feet. Generally, coloured tape is positioned across an open floor to represent a spectrogram. On one end of the tape, "strongly agree" is marked. While the other end is labelled "strongly disagree". Next, the facilitator asks a question or provides a statement. Then, attendees position themselves along the spectrogram. The facilitator can interview people along the line to give participants the opportunity to clarify their selected position. Additionally, participants are welcomed to express their opinion. Also, others can change positions on the spectrogram whenever their perspective on the topic has changed.
AIM: To discover similarities and differences within a group. Also, to get a visual array (a spectrum) of comments on an issue. Similarly, it is also a great way to measure shifts in opinion.
3) ONE QUESTION
Divide conference attendees into pairs or small groups. Pretend that you and your team are in charge of hiring a new employee, but you can only ask them one question during the interview process to see if they are the right choice. Each pair or group has to come up with the single question they would ask this candidate. Now, once they have decided, they must share their question and why they picked that particular one. You can be as creative or as realistic as you want, as long as conversations are work-appropriate.
AIM: A quick and enjoyable way to explore employee priorities. Also, a creative method of team bonding, as well as working together to find a solution.
4) OPPOSITE PROBLEM
In this game, meeting attendees are asked to identify ways to solve a problem opposite to their current problem. For example, if the goal is to increase customers buying the new range, then the person has to solve the anti-problem: How do you reduce the number of customers from buying the new range?
AIM:  To get people to look at a problem from an entirely opposite perspective. Looking at things differently sometimes makes you aware of the actual issues that are contributing to the real problem. Additionally, it also enables your team to think of "out-of-the-box" solutions.
5) SPEED SOLVING
This game is modelled on the concept of "speed dating." Assign each of your conference attendees a number. Either one or two. Then, have all the ones sit down facing the twos. They then have two minutes to talk and solve a problem provided to them on a card. At the end of those two minutes, all of the number two employees rotate and spend two minutes speed solving with the next number one. Continue rotating until each number one has met each number two. Facilitators often write the problems on the cards in consultation with the team's Leader, with a tailored focus on the group's challenges.
AIM: To teach one on one communication strategies, as well as how to work under pressure – with an outcome.
6) NUTTY NAVIGATORS
Get a group together and blindfold one person. Then, create an obstacle course for them to navigate with the help of their team members. The attendees who are not blindfolded must guide their team member through the obstacle course using only the words "left," "right," "forward," and "backwards." Each employee can have a turn, and you can either do this inside or outdoors. Each team times how long it takes to navigate their blind folded colleague from start to finish.
AIM: To enhance teamwork, as well as performing under pressure collaboratively. Additionally, to have a real good belly laugh.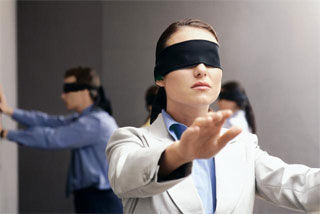 7) 60 SECOND INVENTIONS
Organise teams of 3-5 people. Set a timer for 1 minute and allow each team to create and build whatever they can with only these tools per team:
5 balloons
2 foam bowls
2 small paper cups
6 bendable straws
8 toothpicks
Team members should be working together to decide on what they will invent and how they will invent it! After time is up, allow each team to present and describe their invention! Additionally, you could have a theme for the invention, or a criteria that is in line with what your organisation does. Finally, appoint a small group of judges or let the teams vote on which invention they like the best or which invention is the most creative!
AIM: Encourages team collaboration and creativity.‍ A valuable platform to come up with new ideas and solutions. Also strengthens belief in the company's brand and value proposition.
Get your Team Together on an Activity High Company Conference, call the HBB Group 1300 833 574 or email info@healthybusinessbuilder.com.au to discuss the tailored option that is best for your business.